A CLOSER LOOK AT
The Digihaler app
The
Data
Alerts and
Reminders
Viewing
the Data
---
The data
Objective data are collected on a secure cloud in the Digihaler app and can be generated into personalized reports.1-3
Assess quality of inhalations1-3*
Inspiratory flow rates consistently categorized below "Low" or "Fair" may help you evaluate whether patients require improvement to their inhaler technique.
Inspiratory flow rates are referred to as inhalation airflow in the app.
Track SABA use1,4-7
An increase in SABA use† can help you assess whether there may be a need for a treatment plan adjustment.
The Digihaler app notifies patients when they have more than 12 ProAir Digihaler events in the past 24 hours.
See missed doses2,3
Inhaler usage† data can help you determine whether patients may benefit from coaching to use their maintenance inhaler as prescribed.
*As measured by inspiratory flow.
†Inhaler use is recorded as an event when the cap is opened or a patient inhales.
---
Connection to the app is required for transmission of data but is not required for delivery of the medicine from the inhaler.1-3
There is no evidence that the use of Digihaler technology alone leads to improved clinical outcomes, including safety and effectiveness.1-3
---
Alerts and reminders
These reminders notify patients of their inhalation patterns based on inhaler events.1-3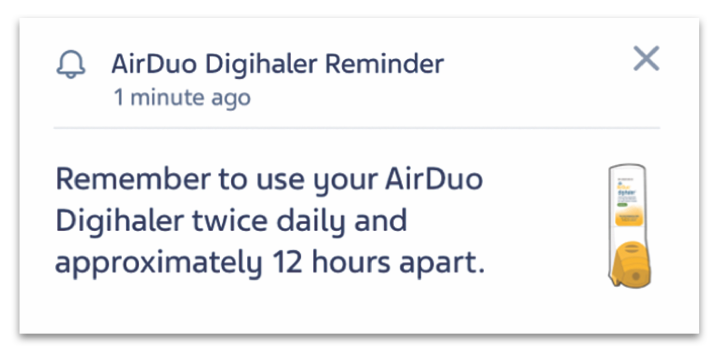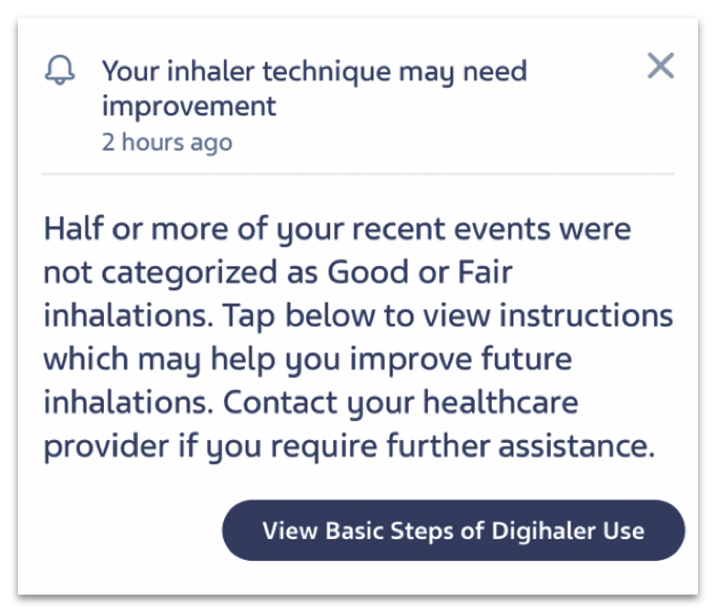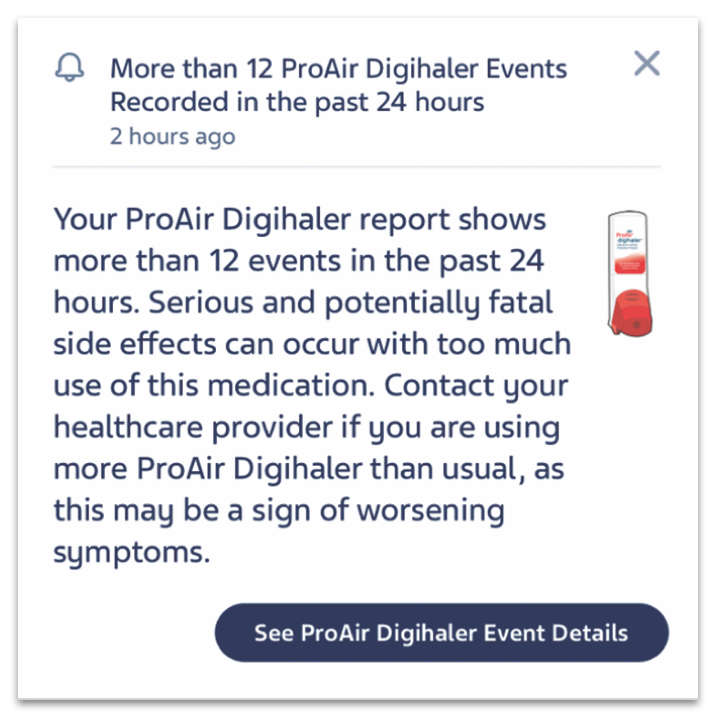 ---
Viewing the data
The app
Patients can share their data by
showing you screens from within the
app at their appointment.
Email, text, or AirDrop®
Patients can share a PDF report
generated by the Digihaler app through email, text, or AirDrop®.
The dashboard
A secure, online tool that enables you to access multiple patients' inhaler event data.
Learn More
How to pair the inhaler with the app
Help your patients begin tracking their inhalations
Share the Patient Quick Start Guide with your patients to help them connect their inhaler device with the Digihaler app.
Download the Guide