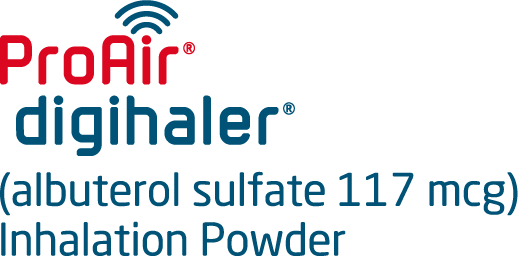 The ProAir Digihaler may help you
Monitor SABA use and assess the need for treatment plan adjustments1*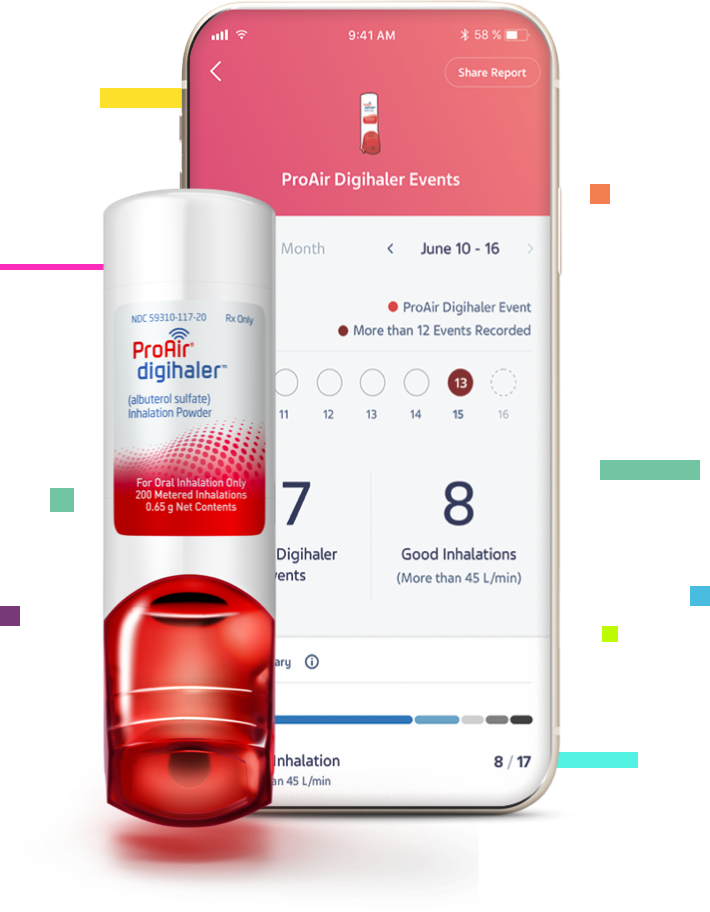 Indicated in patients 4 years of age and older for the treatment or prevention of bronchospasm with reversible obstructive airway disease and in patients 4 years of age and older for the prevention of exercise-induced bronchospasm.
Contraindicated in patients with hypersensitivity to albuterol or patients with a severe hypersensitivity to milk proteins. Rare cases of hypersensitivity reactions, including urticaria, angioedema, and rash have been reported after the use of albuterol sulfate.
Please see additional Important Safety Information in the scroll below.
*Inhaler use is recorded as an event when a patient opens the cap or inhales.
See the Data
ProAir Digihaler
Features
Efficacy
Adverse Events
ProAir Digihaler vs Nondigital Counterpart
Features
ProAir Digihaler
Breath-actuated DPI
ProAir RespiClick®
Efficacy and safety1
Digihaler inhalers and their nondigital counterparts share the same efficacy and safety profile*
Tracks and categorizes quality of inhalations1
Measures inspiratory flow rates1
Tracks how often the inhaler is used1,4,5
Indicates patterns of increasing SABA use1,4,5
Records SABA use at night1,4,5
Connects to a companion mobile app for viewing inhaler use data1
Inhaler use is recorded as an event when
a cap is opened or a patient inhales.
* The Digihaler products were approved based on the safety and efficacy data from their nondigital counterparts.
Product characteristics listed are not all-inclusive and cannot be used to infer product efficacy or safety.
Connection to the app is required for transmission of data, but is not required for delivery of the medicine from the inhaler.
Abbreviations: DPI=dry powder inhaler; SABA=short-acting beta2-agonist
---
The use of ProAir Digihaler for these indications is supported by adequate and well-controlled studies in adults and pediatric patients of albuterol sulfate inhalation powder. There is no evidence that the use of the Digihaler app leads to improved clinical outcomes, including safety and effectiveness.
Demonstrated Efficacy in Lung Function Improvement1
Increases in baseline-adjusted FEV1 up to 6 hours (AUC0-6hr) were significantly greater
(P<0.0001) for albuterol sulfate MDPI than for placebo in trials 1 and 2.
Trial 1: Significantly greater FEV1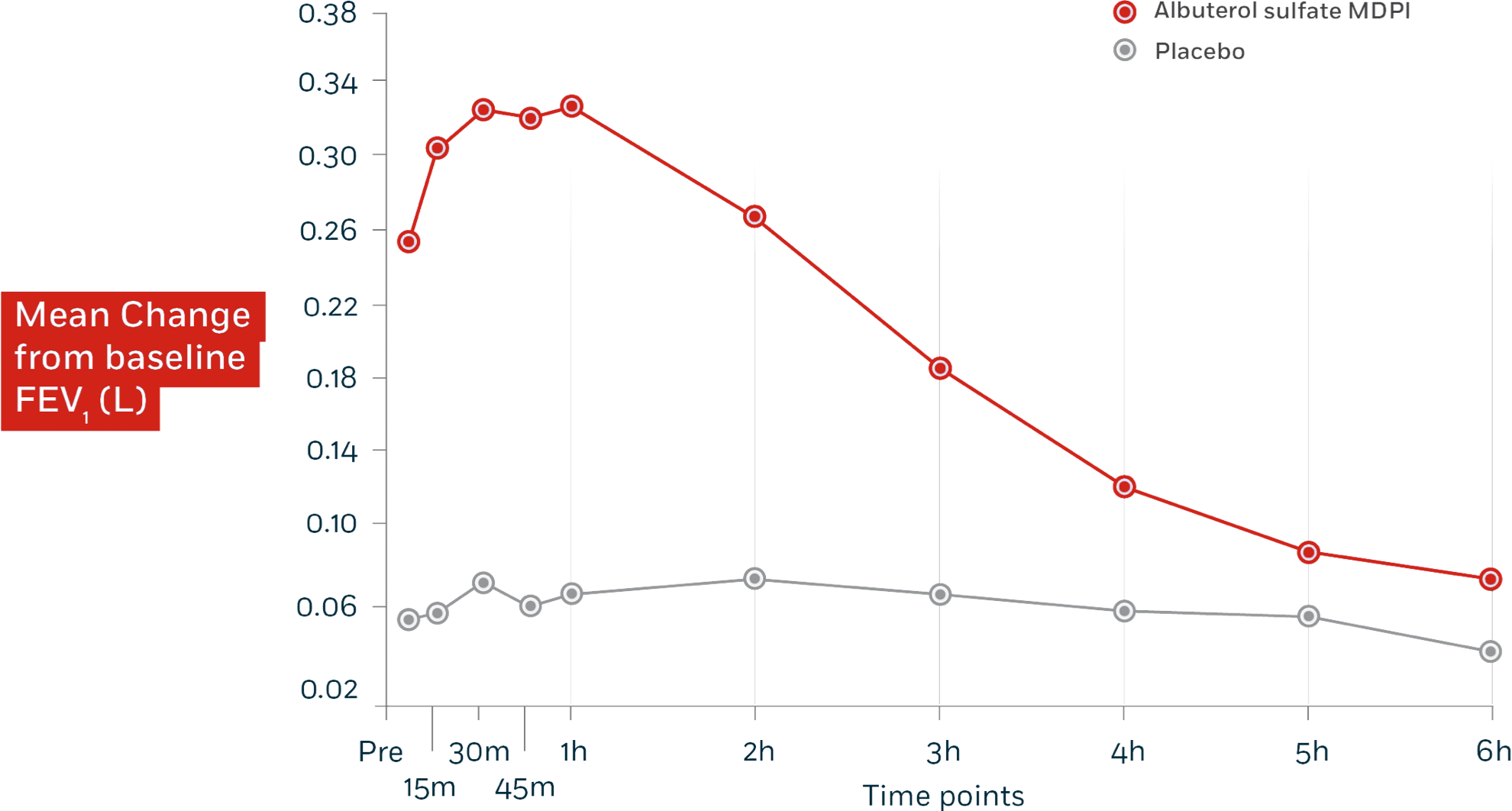 Trials 1 and 2: In 2 replicate 12-week, randomized, double-blind, placebo-controlled trials, albuterol sulfate MDPI (n=153) was compared with placebo (n=163) in asthmatic patients 12 to 76 years of age at a dose of 180 mcg albuterol 4 times daily. The primary endpoint was the mean changes in FEV1 from test-day baseline at Day 1 and Day 85. Results from trial 2 were consistent with results from trial 1.
Abbreviations: AUC=area under the curve; FEV1=forced expiratory volume in 1 second; MDPI=multidose dry powder inhaler
---
Safety profile1
In two 12-week clinical trials, adverse events that occurred at an incidence rate of ≥1% are
shown in the following table:
Adverse Reaction
Albuterol sulfate MDPI 180 mcg 4 times daily
(n=321)
%
Placebo
(n=333)
%
Back pain
2
1
Pain
2
<1
Gastroenteritis viral
1
<1
Sinus headache
1
<1
Urinary tract infection
1
<1
In a study of 168 patients treated with albuterol sulfate for up to 52 weeks (including a 12-week, double-blind period), the most common adverse events (≥5%) were: upper respiratory infection, nasopharyngitis, sinusitis, bronchitis, cough, oropharyngeal pain, headache, and pyrexia.
In a small, cumulative dose study, tremor, palpitations, and headache were the most frequently occurring (≥5%) adverse events.
Abbreviation: MDPI=multi-dose dry powder inhaler
ADDITIONAL RESOURCES
Help patients get started with
the ProAir Digihaler
Make sure they pair the inhaler to the app to get the most out of the Digihaler system.
Find out how